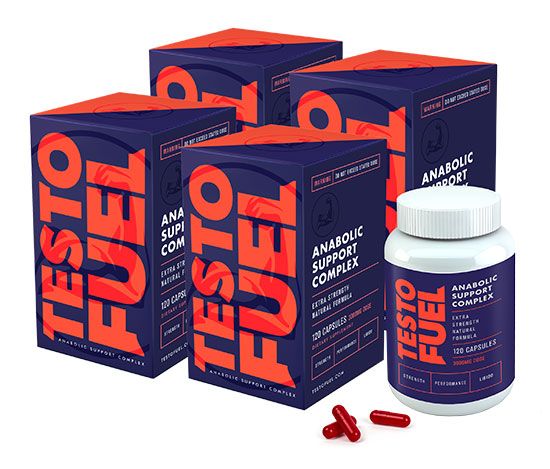 TestoFuel is one of the latest natural testosterone boosters to hit the market.  It was launched in 2012 and has quickly become one of the most popular muscle building supplements available.
Older testosterone boosters mostly contained 'magic' herbs like Tribulis Terristris, Tongkat Ali, Horny Goat Weed etc.  These were thought to increase testosterone and had some sketchy studies behind them.  When it came down it, they never actually did much and didn't warrant the cost.
TestoFuel is different, it contains large amounts of two clinically proven ingredients; D-Aspartic Acid and Vitamin D3.  Thanks to new research, experts have done human studies to prove how effective these ingredients are at increasing testosterone levels.
To buy and for more info go directly to www.TestoFuel.com
TestoFuel ingredients
When I looked at the ingredient profile I was impressed by how it has been formulated and the large dosage.  Many supplements contain the right ingredients but are under-dosed which makes them ineffective.
D-Aspartic Acid
This is an amino acid formed in the pituitary gland, hypothalamus, and testes.  It plays a very important role for muscle tissue growth and libido.  It's already naturally produced by the body in small amounts.  When you supplement this amino acid, you can experience stronger effects.
In a study performed in Italy in 2009, a group of men were given high doses of DAA for 12 days at a time.  Their blood levels were taken before and after and a 33% increase in testosterone was shown.
Read the study here: http://www.ncbi.nlm.nih.gov/pmc/articles/PMC2774316/
Vitamin D3
Vitamin D isn't just a vitamin, it's a vital hormone in your body.  Watch the short video below to learn about it in a nutshell.
http://www.nsca.com/videos/expert_tips/the_vitamin_d_and_testosterone_connection/
Various studies have proven that increasing your vitamin D levels increase your testosterone levels and your overall athletic performance.  It also has a number of other health benefits.  Even if you're not trying to raise your T levels, you should be supplementing.
ZMA formula – Zinc, Magnesium & vitamin B6
The ZMA formula can be found in many testosterone boosters and can also be bought on it's own.  While it doesn't increase testosterone on it's own, if you are deficient in these minerals, your testosterone levels can suffer.  It's strongly recommended that you supplement with this.
Vitamin K2
This is a new ingredient to the testosterone table, recent studies in animals have shown that it can increase testosterone levels.  A deficiency in Vitamin K2 can decrease testosterone levels.
Oyster extract, Ginseng, Fenugreek
Oysters are known to be the number one food for increasing testosterone levels because of the high zinc and amino acid content.  Ginseng and Fenugreek are known to help with testosterone production.
TestoFuel Pro's and Con's
Pro's:
Contains clinically proven ingredients

Contains the latest testosterone boosting ingredients available
Order 3 boxes, get 1 free and 1 free t-shirt
Speeds up your muscle building results
Con's:
You can only buy direct from their website

Not suitable for vegetarians or vegans, it contains oysters and gelatin
TestoFuel overall review conclusion
It contains clinically proven ingredients in large doses.  It comes from a single product company that is solely focused on creating the best testosterone booster.
At $69 a box, it's not the cheapest product around but I believe that it's worth the cost and will give you the results that you require.  Take it for 2 – 4 months to raise your t-levels and increase your muscle building results.
Right now you can only buy it from their website www.TestoFuel.com.