Are you tired of running and riding a bicycle?  Do you want to try something new and exciting that will unleash the kid inside you?  Then you absolutely must try working out on a trampoline.  That's right; you can bounce your way back to the body you've had or always wanted.  You just need to step on a trampoline and jump as high as you can.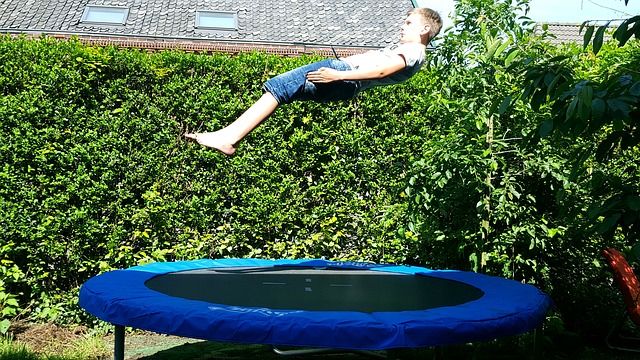 There's one more thing about jumping on a trampoline, and ladies will especially love it.  Jumping on a trampoline regularly will really and genuinely reduce cellulite.  Huh, what did you say about that?
Let's take a look at some of the numerous benefits that jumping and working out on a trampoline offers you.
Less stress
Jumping on a trampoline will generally make you feel better if you're stressed out.  Also, exercising on a trampoline is generally less stressful for your joints than running, for example.
If you're just starting to exercise again because you were injured or simply lazy (and that's perfectly normal), start with the trampoline.  It will be easier for your joints, and you'll eventually get in shape and make your body ready for harder exercises.
Strong bones
Jumping puts the bones under slight stress, and this helps your skeletal system build up strength.  Exercises on a trampoline make you work against gravity, and they're especially beneficial for your bones.  You'll make your bones start improving bone density and mineral content without putting too much stress on them and your joints.
Improved balance and posture
By working out on a trampoline, you'll make your core muscles work like never before.  Don't you believe that?  Well then, get on a trampoline and start jumping up and down and see if it's easy to stay on your feet.  It's not, right? After a couple of minutes of working out on a trampoline, you'll feel your abs absolutely burning!
Your posture will also improve.  Well, at least it will if you really try to stay on your feet at all times.  If you like jumping up and falling down on your back like some kids, your posture certainly won't improve.
Meeting new people
You might think that meeting new people is really not important, but it's actually beneficial for your cognitive attitude, mental performance, and even your physical health, at least according to Tennille Shelley.  Where can you meet new people?  In a trampoline park, of course!  You don't have to jump on a trampoline by yourself.
There is a great trampoline park in Las Vegas; there's one in Little Rock; there's one basically in every city!  Get out there and jump, laugh, and have fun with people who share your interests.  Who knows, maybe you'll meet your new best friend or the love of your life there? That would certainly be great for your health.
Improved lymphatic system
The lymphatic system does one significant thing – it pumps fluid that helps the body regenerate and eliminate toxins from the system.  Bouncing can help you improve the condition of your lymphatic system.  How?  It's simple, really.
When you land, the g-force that occurs will cause significant lymphatic drainage.  Why is that important?  Because it will help your body detoxify quicker than ever before!
Motor skills
There's a reason why NASA astronauts use rebounders.  That's because they need to learn to do lots of hard and skillful activities while not being affected by gravity.  Jumping on a trampoline will help you develop motor skills significantly, even if you're not a kid.  Bouncing, maintaining body position and being concentrated at all times will improve your coordination.
You can exercise at home on a mini rebounder or you can visit a trampoline park, it's your choice.  Keep in mind that working out while being surrounded by like-minded people will be good for you, so even if you're shy, don't be afraid to have fun and try something new.  Trim belly fat, make your abs work, remove cellulite, and stay healthy by simply being a kid on a trampoline.  Take good care of your body by exercising as an astronaut!