Apart from the fresh zesty flavour of quince, there are common sense health reasons for enjoying this often forgotten fruit which is becoming increasingly popular in recent years.  Whilst it is possible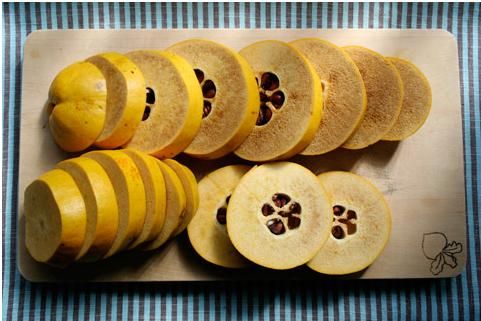 to eat quince raw, the true magnificence of this age old fruit lies in coring, peeling, and cooking it in the preparation of jams, compotes, preserves, desserts, stews, and dressings.
Quince is a pome fruit in the same family as apples and pears.  It typically grows in Western Asia, some Latin American countries, and South-Eastern areas of Europe.  Early in the twentieth
century it was discovered that the climate of the growing season and the soil conditions in California were ideal for farming quince, which was popular for the high pectin it contained that made it suitable for jams and jellies.
Health Benefits
Six Healthy Nutritional Reasons to enjoy quince:
Quince is a fruit with few calories, only 57 calories per 100 grams of fresh raw quince.  It also contains important phyto-nutrients like dietary fibre, minerals, and vitamins.
Quince pulp is a good source of nutritional fibre because of the tannins in it's pulp.  They stick to cancer-causing toxins and chemicals to protect against absorption in the colon and help reduce body weight and bad cholesterol levels.
Quince is composed of important phenolic compounds and essential oils that give quince a perfumed aroma.
Ripe quince contains 15 mg of Vitamin C per 100 grams of fruit to provide one-fourth of the recommended daily allowance and help remove harmful oxygen-free radicals from the body, increase immunity, and reduce viral episodes and inflammation.
Quince is a fine source copper and other minerals such as potassium and magnesium, B-complex and B-6 vitamins.
Quince has anti-allergenic and anti-inflammatory properties.
Season
The growing season begins in September and fresh quince is usually available in early November. Fresh quince should be bright gold or yellow and firm.  Pass on under-ripe green or bruised and shrivelled fruit or you will be disappointed.  You can store quince easily for a week or so in a cool dark area with good air circulation or you can keep them for several weeks in your refrigerator.  For bottled or canned quince products, season is not an issue but always check the expiration date, especially when using quality products with no additives like you will find at Fussels Fine Foods.
Preparation
The hard texture and bitter taste of raw quince are too sour and astringent to be enjoyed without cooking the fruit to dissipate these compounds.  Heat breaks down the texture to a smooth palatable consistency and brings out the perfumed aroma whilst preserving the desirable essential oils and aliphatic compounds.
Begin preparation by washing the quince in cold water.  Quarter the fruit like you would an apple or a pear.  Use a knife to remove it's core and seeds and then cut the quarters in to smaller wedges for cooking.
There are too many recipes for quince to mention here but we can offer a few serving suggestions:
Quince is a wonderful addition to your confectionary dishes such as pies, tarts, cakes, jams, marmalade, and jellies for the unique quince flavour.
Quince also makes interesting stews, seafood, poultry, and lamb recipes.
Quince pound cake is a delightful dessert.
Spiced lamb chops with poached quince.
Quince and hazelnut stuffing
When you shop for fresh quince, buy more than you need at different stages of ripeness, then let the more unripe ones sit in a bowl in your living room or dining room to give off their perfumed aroma until they are ready to prepare.
Author Bio
Fussels Fine Foods is a Somerset-based business that offers a range of food products with rapeseed oil.  They also have sunflower oil for sale along with salad dressings and sauces.