This workout has been specifically designed to build more muscle mass in your chest.  The four chest exercises you will be performing are the barbell bench press, incline dumbell bench press, the dumbell pullover and the incline dumbbell flys.  This chest routine will stimulate your chest from as many angles as possible to incite hypertrophy.
DON'T FORGET TO WARM UP
Before partaking in any intense workout you should always spend a few minutes warming up to get your heart rate up and the blood circulating to your muscles.  Immediately delving into an intense workout without having sufficiently warmed up can result in injury.  5 – 10 minutes of walking, jogging, jumping jacks or skipping is more than sufficient.
COOL DOWN PHASE
At the end of the workout 5 – 10 minutes of cooling down is important to prevent blood pooling and allow your heart rate to return to pre workout levels.  This can be achieved through static stretching of targetted muscles while focussing on your breathing.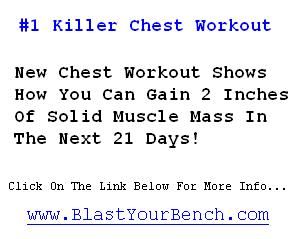 THE EXERCISES
1) Barbell Bench Press
2) Incline Dumbell Bench Press
3) Dumbbell Pullover
4) Incline Dumbell Flys
This chest workout routine should deliver muscle gains in the shortest possible time as long as the exercises are performed correctly and is backed up with good nutrition.
***
Warm Up – 5 minutes of jumping jacks.
| | | |
| --- | --- | --- |
| Exercises | Sets | Reps |
| Barbell Bench press | 2 | 5 – 10 |
| Incline Dumbell Bench press | 2 | 5 – 10 |
| Dumbell Pullover | 2 | 5 – 10 |
| Incline Dumbell Flys | 2 | 5 – 10 |
Pushups to exhaustion (Blast set to be done at the very end of the workout.)
Cool down – 5 – 10 minutes static stretching of your chest muscles.
***
 BLAST SET OF PUSH UPS AT THE END
TIPS
* You are allowed 30 – 90 seconds break between sets.
* Ensure that you perfect your technique before graduating to a heavier weight.  By concentrating on intensity with a lighter weight you will be much more effective at stimulating muscle fibers resulting in more muscle growth.  You can achieve maximum intensity by performing the exercises in slow and controlled movements.
HAVE FUN!