Millions of people around the world, especially bodybuilders and sportsmen, use various sorts of nutritional and sports supplements like protein shakes to improve their health and performance on the field.  There is nothing wrong with the use of these supplements but choosing the right supplements for building muscle can be a very tricky process.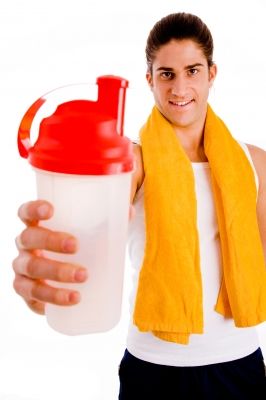 The Persuasive Claims of Companies:
Nowadays, there are hundreds of thousands of bodybuilding supplements available on the market with companies touting their respective supplements as the best.  All these claims and plethora of products has made it very difficult for consumers to make the right choice.  In this regard, prices may vary but price should be last on the priority list for serious bodybuilders.  The best way to choose a protein shake or powder is to consider your specific needs and the nature of your objectives.  It is only then you can decide what is the best protein shake for you.
Image courtesy of imagerymajestic at FreeDigitalPhotos.net
The process of selecting a suitable protein supplement becomes even more difficult if you are a newcomer to the field.  Furthermore, if you do not possess any basic knowledge about what are the best protein shakes for bodybuilders, you can end up buying the wrong one.  You should not ignore the suggestion of your training instructor but it is you who has to make the final decision and it should not be based on reviews presented on TV and in magazines.
How to Choose The Best Supplement for You:
Despite of all these problems you can select the right supplement by doing the following:
Do Some Research:
First, you need to do some research about the background of the supplement as there are many varieties to choose from.  The most common forms of protein supplements are whey protein and egg proteins and the internet is the best place to learn about the benefits and demerits associated with all of them.
Test the Supplement:
After figuring out the right supplement that suits your specific requirements, test it out for a few days to find out how your body reacts to it.  This is important as results might vary from person to person.
Post and Pre Workout Supplements:
Some experienced bodybuilders use different types of supplements at different times of the day.  For example, they use particular supplements before exercise and others to recover from exertion.
The Cost Issue:
As discussed previously, prices may vary but quality does not often correspond with price.  In this regard, the supplement with the least price can turn out to be most effective and vice versa.  You only need to consider your body requirements and after testing a particular supplement for at least two weeks, make the final decision.
Conclusion:
Protein shakes and powders can help you to safely build muscle but you need to choose the right supplement for you to maximize the benefits of your efforts.