What is APE by Athletic Edge Nutrition?
APE (Alpha Performance Enhancer) is a supplement designed to increase testosterone, vascularity and performance.  The highlight of this product is the ability to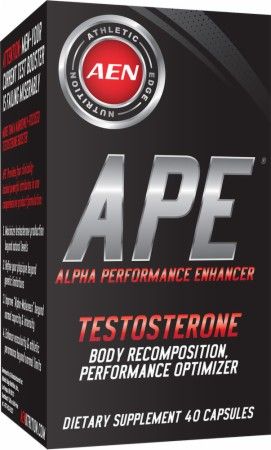 increase the bioavailable and free testosterone in the body.  While it increases muscle mass and enhances libido, this testosterone booster also reduces body fat, thereby giving you a leaner physique.
Ingredients
GlycoCarn and TestoSurge.
Athletic Edge Nutrition APE's formula is powered with GlycoCarn and TestoSurge.  TestoSurge helps in enhancing testosterone levels and supporting body re-composition through the Fenugreek derived formula.  This ingredient is also responsible for healthy estrogen levels and prevents testosterone from being converted to estrogen.  The addition of TestoSurge helps decrease body fat for a lean physique.
GlycoCarn is a researched-supported, patented compound that is composed of glycine propionyl I-carnitine.  The compound is widely popular in sports nutrition to increase nitric oxide synthesis in athletes when taken orally.  The compound makes up the part of APE's formula that increases Nitric Oxide (NO) levels for enhanced vascularity.  The result is greater blood flow and oxygen to the muscles.  GlycoCarn also increases energy levels and endurance during high intensity training.
Long Jack standardized extract
This ingredient is responsible for increasing free testosterone by blocking the sex hormone biding globulin which binds with testosterone, hence making it unusable.  This results in plenty of free testosterone; the form that the body can utilize.
APE goes beyond the above trio of GlycoCarn, TestoSurge and Long Jack Extract with other research-backed and dosed ingredients to aid you in achieving even greater results.  These include: Vitamin D, Folate, Vitamin B6, Zinc, Vitamin B12, Maca Extract, Bioperine, Piperine, Indole-3-Carbonal and Folic Acid.
Click Here

 to save $11.04 on Optimum ZMA.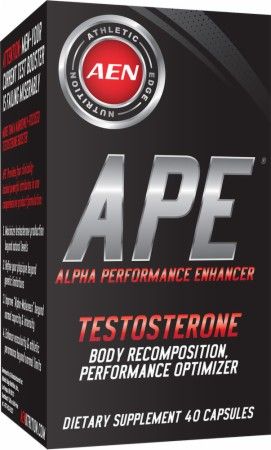 Pros
APE will help you to build more muscle.
APE will give you more energy.
The price is very competitive compared to other testosterone boosters on the market.
Minimal side effects.
Cons
While APE does aid in muscle growth, it does takes a bit longer than other testosterone boosters to work.
In summary
Albeit slow, you will eventually experience results in time.
APE is a decent testosterone supplement with an affordable price but if you want faster and better results I would recommend Testofuel; it contains clinically proven ingredients in just the right amounts to give you greater energy and help you build more muscle.