Hello! I am a frugal lifestyle blogger who runs a blog called "Freedom in Frugality".  I am here today to give you some tips on bodybuilding the frugal way.  As the old saying goes, "abs are made in the kitchen" so, most of my tips will be diet related.  However, I have some good information on saving money at the gym as well.  Let's get started!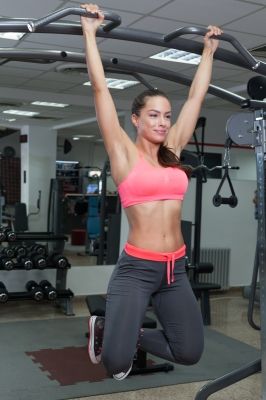 Your Egg-cellency
I know you've heard a billion times how eggs are a super-cheap source of protein, but, it bears repeating that you can get 32 eggs for $5 if you buy in bulk.  If you live in a small household, you can easily hit up a Dollar Tree and get a dozen for $1.  I make a lot of "boiled" eggs at once so they are always ready to go for sandwiches and salads.  I put whole eggs in a muffin pan (one egg per "muffin" slot).  I bake the eggs at 325 degrees for 30 minutes and then soak them in cold water.  The "boiled" eggs stay in my fridge and are always ready for a filling meal.  And yes, I purchased the muffin pan at the Dollar Tree as well.  Here's the exact same pan I found in the store.
More Dollar Store Food
Two great protein rich foods are peanut butter and black beans.  The Dollar Tree always has canned black beans and large bags of dried black beans.  I use the black beans in wraps, add it to pasta as a protein source, and sometimes I eat the beans on top of brown rice.  I have also seen various natural brands of peanut butter in the Dollar Tree.  It is trans fat free and you have to "stir" it like you do sometimes with natural nut butters.  The container is relatively small, but if you have a small family (or are the only one into bodybuilding), then the Dollar Tree is an awesome place to find these staples.
Quick and Cheap Potatoes
Potatoes have always been dirt cheap and you can easily cook them in the microwave to save time.  I simply wash them, poke holes in them and wrap each spud in a wet paper towel.  It takes two potatoes about six to eight minutes to cook depending on your microwave.
Spices are Life
When you're dining on cheap food, spices will jazz things up and give you some variety.  Everyone ought to have cumin, garlic, curry powder, basil, thyme and rosemary on hand.  All of the spices in my kitchen are dried and were purchased at a dollar store.
Waste Nothing
When you're boiling vegetables, use the leftover water in smoothies or while making rice or quinoa.  There's no need to pour those nutrients down the drain.
Drug Store Seafood
As much as I love dollar stores, I never buy tuna from them.  One dollar for a can of tuna is outrageous.  I rarely get tuna from the grocery store either.  The vast majority of my tuna comes from drug stores like Walgreens, CVS and Rite-Aid.  Walgreens seem to have tuna deals the most often.  Check out weekly drug store ads and you'll see tuna on sale for abut 20-25 cents per can.  I love making tuna wraps and sometimes I put it on spinach in a salad.
A Low Carb Alternative to Mashed Potatoes
Cauliflower is cheap and nutritious.  I find the best deals on this vegetable at grocery stores like Save-A-Lot and Piggly Wiggly.  Just wash and cut up your cauliflower.  Put the cauliflower in a food processor with milk and grated Parmesan cheese and bake it for 15-20 minutes at 350 degrees.  Then, you have some tasty mashed cauliflower!  Feel free to top it with some shredded cheese. I got my food processor on eBay for next to nothing.
Cheaper Quinoa
Quinoa is quite popular now and it's also a bit expensive in my opinion.  If you live in the southwestern part of the United States you can score cheap quinoa at Hispanic markets.  I live on the east coast and I go to some local Indian markets for the quinoa.  It is almost as cheap as rice there.  It goes without saying that Whole Foods are nicknamed "Whole Paycheck" for a reason.
Go Nuts
If you are bulking up, buy peanuts and other nuts/seeds in bulk.  They have a lot of calories and are quite versatile.  Peanuts may reduce your risk of heart disease and sunflower seeds are great on salads.
Being a Miser at the Gym
Some employers (like Prudential) offer gym discounts for employees.  They understand that healthier employees reduce health insurance costs and increase productivity.  Check with your employer about this.  Also, keep in mind that sites like Groupon or Living Social sometimes offer major deals on gym memberships.  Do not be hasty when shopping around for a gym as there are some who will waive the joining fee.  In my experience, the YMCA gym is a good value and they usually offer a week-long trial certificate.
Our wallets have been hurting since 2008, but no matter what is going on with the economy, time continues to pass and we only have one body.  I hope that I have given you some tips to help you reach your health and fitness goals on a budget.
Image courtesy of patrisyu at FreeDigitalPhotos.net
About
Krystal Brown is a writer and artist who knows how to live within a tight budget.  Subscribe to her blog Freedom in Frugality so you won´t miss out on all her great tips.